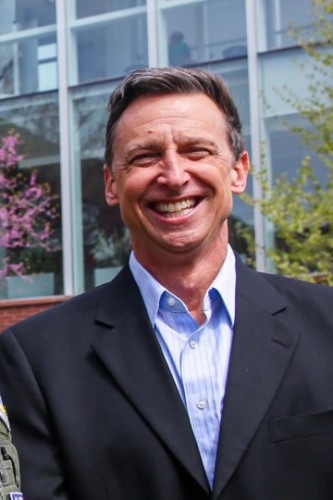 David Polatty
Senior Fellow in International and Public Affairs, Director, Military Fellows Program
Research Interests
Humanitarian Response
Areas of Interest
Military planning, strategy development, humanitarian response, human security, leadership.
Dave Polatty is a Senior Fellow at the Watson Institute teaching undergraduate courses, conducting innovative research, and directing the Military Fellows Program. He spent over 40 combined years in U.S. government service in multiple leadership roles, as both a civilian professor at the U.S. Naval War College (NWC) and Captain in the U.S. Navy Reserve. He has also worked as a senior leader and strategic advisor for humanitarian nongovernmental organizations and his professional experiences focus on national and human security, strategy development, crisis planning, and humanitarian response.
Dave is a fourth-generation U.S. Navy officer and served for 30 years, retiring as a Captain. From 2009 to 2019, he commanded five different Navy Reserve units that supported multinational and U.S. military operations around the globe. While on active duty from 1992 to 2003, he served as a Surface Warfare Officer and Naval Flight Officer.
From 2008 to 2022, he served as a professor at NWC where he founded and directed the Civilian-Military Humanitarian Response Program, and designed and taught numerous postgraduate courses on strategic planning and crisis response.  
He holds a BS in History from the U.S. Naval Academy and graduated with the highest distinction from the U.S. Naval War College, earning an M.A. in National Security Strategic Studies and receiving the Navy League William S. Sims Award. He is also a graduate of the U.S. Joint Forces Staff College and designated as a Joint Qualified Officer (Level III).
Dave's research primarily focuses on civil-military coordination in humanitarian response and his active research efforts include:
1. Humanitarian Notification Systems for Deconfliction (Brown/Naval War College/Stanford Law School)
2.  Protection of Civilians in Great Power Conflict (Brown/Center for Civilians in Conflict/Naval War College)
3. Civilian-Military Interaction in Conflicts: Best Practices and Perceptions (Brown/Naval War College) - funded by US Department of State, Bureau of Population, Refugees, & Migration
4. Global Military Engagements in the COVID-19 Response (Brown/Naval War College)
2021 - "Civil-Military Coordination in Disaster Response," Co-authored with Court, M. and Horne, S.  Chapter for the 3rd Edition of Ciottone's Disaster Medicine.  Accepted for upcoming publication by Elsevier. Amsterdam, Netherlands
2021 - "Operationalizing Equity During Local Pandemic Response," Co-authored with Raymond, N. et al.  EClinicalMedicine, Published by The Lancet.  June 7, 2021. London, United Kingdom.
2021 - "Civilian perception of the role of the military in Nigeria's 2014 Ebola outbreak and health-related responses in the North East region," Co-authored with Kwaja, CMA et al. BMJ Military Health.  February 5, 2021. London, United Kingdom.
2021 - "The political and security dimensions of the humanitarian health response to violent conflict," Co-authored with Wise, P. et al.  The Lancet. April 24, 2021. London, United Kingdom.