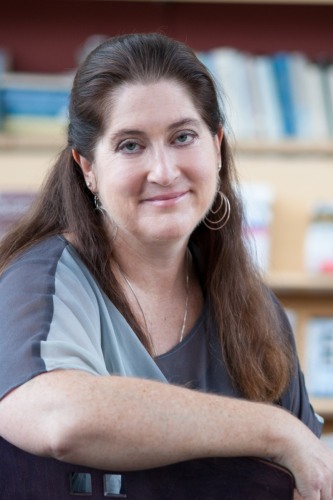 Rose McDermott
Director of Postdoctoral Program, David and Marianna Fisher University Professor of International Relations
111 Thayer Street, Room 343
Areas of Expertise
Cybersecurity, Ethics, Gender, Nuclear Weapons, US Foreign Policy
Areas of Interest
International relations, American Foreign and Defense Policy, psychological aspects of decision-making, especially risk taking and emotion, gender, biological and genetic aspects of political attitudes and preferences, social identity, experiments
Rose McDermott is the David and Mariana Fisher University Professor of International Relations at Brown University and a Fellow in the American Academy of Arts and Sciences. She works in the areas of political psychology. She received her Ph.D. in Political Science and M.A. in Experimental Social Psychology from Stanford University and has also taught at Cornell and UCSB. She has held fellowships at the Radcliffe Institute for Advanced Study, the Olin Institute for Strategic Studies and the Women and Public Policy Program, all at Harvard University, and has been a fellow at the Stanford Center for Advanced Studies in the Behavioral Sciences twice. She is the author of five books, a co-editor of two additional volumes, and author of over two hundred academic articles across a wide variety of disciplines.
I work on a wide variety of different topics. Current projects include a large series of survey experiments examining nine types of attitudes toward gender inequality in over 20 countries. I am participating in several projects related to nuclear weapons, leadership and the stability of deterrence. More broadly, I work on topics including international relations, American Foreign and Defense policy, nuclear  strategy,  experimentation, leadership, ethics,  gender, identity, intelligence, cybersecurity, the role of emotion in decision-making, and genetic contributions to political attitudes and behaviors.  
McDermott,  Rose.   Robert Jervis: A reminiscence. War on the Rocks
McDermott, Rose.   Robert Jervis: Academic Silverback.  H-Diplo  
McDermott, Rose (forthcoming) Breaking Free: How Pre-registration hurts Scholars and Science. Politics and the Life Sciences
Glowacki, Luke & McDermott, Rose (forthcoming).  Key individuals catalyze intergroup conflict.  For special issue of Philosophical Transactions of the Royal Society B-Biology.  Guest Editor: Carsten de Dreu. 
McDermott, R.(2022)   Commentary on Commentary on Gries, Muller, & Jost's "The Market for Belief Systems: A Formal Model of Ideological Choice..  Psychological  Inquiry
McDermott, Rose & Hatemi, Peter K.  (Nov.16. 2020) Ethics in Field Experimentation: A Call to Establish New Standards to Protect the Public from Unwanted Manipulation and Real Harms. Proceedings of the National Academy of Sciences
McDermott, R. & Hatemi, P. (December 3, 2020).  Revenge is a dish best served Nuclear: We must prepare for Revenge, not Rationality. Bulletin of Atomic Scientists
McDermott, Rose (2020). Trump's covid diagnosis and Presidential Illness.  Politics and Life Sciences.  
Davis, James & McDermott, R. (2020). The Past, Present, and Future of Behavioral IR International Organization 
Hatemi, Peter K. & McDermott, Rose (2020). The influence of everyday dispositional Fear on political Ideology.  Human Nature
McDermott, Rose. (September 2, 2019).    Making America Less. Nature Human Behavior. 
McDermott, Rose (Dec. 11, 2019). Emotional dynamics in cyberconflict. Journal of Cyber Policy
McDermott, R.   (2019). The role of gender in political violence.  Special issue on Political Ideologies in Current Opinion in the Behavioral Sciences.  Edited by John Jost, Eran Halperin & Kristin Lauren. 
McDermott, Rose (2019).  Political Science's #metoo moment. Journal of Women, Politics and Policy.  Special issue edited by Nadia Brown.
McDermott, Rose.  Leader's Emotional Manipulation of Political Identity: An Evolutionary Perspective. (2019). Leadership Quarterly Special Issue on the Evolution and Biology of Leadership (Guest editors: Mark Van Vugt and Chris von Rueden). 
McDermott, Rose.  (2019).  Psychological Underpinnings of Post-Truth in Political Beliefs. PS
McDermott, R. (K. Monroe, Ed.) (2018).  The Evils of Polygyny: The David Easton Lectures by Rose McDermott.  Ithaca: Cornell University Press. 
McDermott, Rose (2018). The Nature of Narcissism. For H-Diplo. https://issforum.org/roundtables/policy/1-5BE-Narcissism 
McDermott, Rose.(2018)  Coalitional Rivalry May Hurt in Trade, but Help in War: Commentary on Boyer & Petersen.  Behavior and Brain Sciences
POLS  0400 Introduction to International Relations 
IAPA 0600 Foundations of Security
POLS 1821P Political Psychology in International Relations
POLS 1821M War in Film and Literature
POLS 1823G Woman and War 
POLS 1550 War and Politics
POLS 1560 American Foreign Policy 
PLCY 2735 Women and Nations