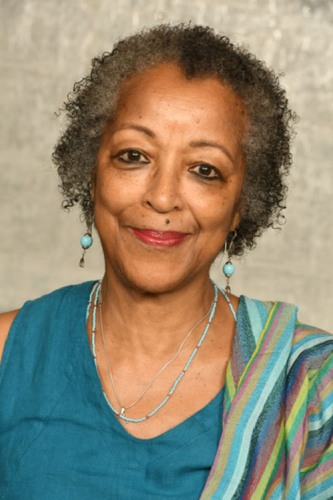 Geri Augusto
Senior Fellow in International and Public Affairs
111 Thayer Street, Room 204
Areas of Expertise
Education, Gender, Inequality & Poverty, Race, Identity & Ethnicity, Science & Technology Policy, Social Movements
Areas of Interest
Indigenous and other subjugated knowledge systems, science and technology policy in the Global South, Black transnationalism and history of black resistance (USA, Southern Africa, Brazil), critical black geographies, transformation of higher education
Geri Augusto is a longtime scholar and former activist at the intersection between the politics of knowledge, knowledge practices, creative expression, and struggles for equality and justice in unequal, highly diverse societies and communities. She is the Director of the Undergraduate Development Studies program, a faculty associate at Brown's Center for the Study of Slavery and Justice (CSSJ), an affiliate in the Africana Studies Department and at the Center for Latin American and Caribbean Studies (CLACS), and a former visiting associate professor of International and Public Affairs and Africana Studies. Now a Senior Fellow in International and Public Affairs as well as Director of Undergraduate Development Studies at the Watson Institute, Augusto is currently part of the Institute's Brazil and Africa Initiatives, and serves on the steering committee for Brown's new Native American and Indigenous Studies Initiative (NAISI) program. She is also a visiting African diaspora scholar for the Doctoral Program in Higher Education Studies at the University of the Western Cape in South Africa. Her interests include subjugated knowledge, global Black radicalism, colonial sciences, higher education transformation, science and technology policy, and visual arts. Her most recent work spans Brazil, the U.S., and South Africa.
In Brazil, she is currently a member of the scholarly collective Traduzindo no Atlantico Negro (Translating in the Black Atlantic) based at the Federal University of Bahia-UFBA; supervises several post-graduate students in African diasporic literatures, translation studies, and sustainable development; and collaborates with the Salvador-based Steve Biko Cultural and Educational Institute. At the Biko Institute, Augusto helped establish and taught in the Kwetu Leadership Institute for black and women's social movements in the northeast region of Brazil.
Augusto serves on the board of the Student Nonviolent Coordinating Committee (SNCC) Legacy Project as well as the editorial board for the new SNCC Digital Gateway, in partnership with Duke University. Within this project, she has a particular interest in how the U.S. southern freedom struggle/civil rights organizations influenced international policy and affairs in the 1960s and 1970s.
Augusto has collaborated on numerous public policy projects in the South African science and technology, higher education, and indigenous knowledge sectors, including the National Commission of Higher Education; the System-wide Review of Science, Engineering and Technology Institutions; and the First National Workshop on Indigenous Knowledge Systems. She worked for 8 years with the regional development organization Southern African Development Community (SADC) at its beginnings.
Augusto has a B.A. in Economics from Howard University, a Master in Public Administration (MPA) from Harvard Kennedy School, and Ed.D. from George Washington University.
Critical black geographies and landscape architecture, quilombola (maroon) ideas, histories of textile technology from the lens of enslaved and indigenous women, gardens of the enslaved, epistemologies of practice.
Augusto's current projects include:
Multimedia project "Plant Thoughts," which takes a multifaceted perspective on some critical transformations in environment and society occasioned by colonization, plantation slavery and their aftermaths. 

Book project "Kalunga Letters," an annotated volume of black activist mother-daughter correspondence over 20 years.

Creation of multi-media assemblages and installations, deploying a methodology that tacks back and forth between archival research for written articles, artwork and photography, including the symbolic garden for the enslaved at Brown's CSSJ; the assemblages "Plants of Bondage/Liberation Flora," "Sukey's Iron," "Negro Cloth Nkisi," and "Incendiary Seamstress: For Lumina Sophie." 
Augusto's current research projects in collaboration with Brown colleagues include:
Migration/Immigration in Latin America & between the Caribbean, Latin America and the U.S., supported by the Center for Latin American and Caribbean Studies Sawyer grant.

A New History of New England that focuses on Native Americans and African Americans, supported by a Mellon Foundation grant with the Center for Study of Slavery and Justice.
Collaborative Projects Outside of Brown
Member of the new Advisory Group for the chief curator of the Iziko Museum Slave Lodge in Cape Town, South Africa; and future designer of a memorial garden for the museum.

Member of the Global South Cosmologies and Epistemologies Initiative, a collaboration with MIT and several other international universities which kicked off with a virtual seminar at the Max Planck Institute in Berlin. As part of the Initiative, Augusto will be involved in a book series with MIT Press and a multimedia (documentary and podcast) series called "Everyday Design-MakerX: From the Margins to the Center," and an experimental team-taught Graduate Super-Seminar in Fall 2021 that engages students in trans-hemispheric conversations that are not mediated by, or wired through, western referents. 

Collaborator in the research project "Domestic Worldmaking by the Enslaved" with colleagues from the University of Ghana, Royal Institute of Art, Stockholm, Hunter College, and Yale, which aims to advance our understanding of the agency and innovation within the domestic architecture of the enslaved and formerly enslaved, using a "critical geography of architecture" methodology and a multimedia format that document the social practices and use of such spaces, objects and materials. The project is supported by a grant from MIT's Global Architectural History and Teaching Collaborative.
Public Engagement
Movement History Initiative-MHI (2013-2022), the latest project of which is "Our Story. Our Terms," MHI is a collaboration among veterans of the Student Nonviolent Coordinating Committee (SNCC Legacy Project), today's activists and grassroots organizations (e.g., New Georgia Project, BYP100 and M4BL), the John Hope Franklin Research Center, Duke's Center for Documentary Studies, and scholars and archivists at Duke University, to conceive a different narrative of the U.S. Freedom Movement, telling that story from the ground up and the inside out. https://library.duke.edu/rubenstein/franklin/movement-history-initiative 

Presentation "Theatre of the Oppressed in Context: A Conversation with Africana Studies," with Joao Boal, collaboration with Rites & Reason Theatre and Theatre and Performance Studies, Brown University, Nov. 20, 2019.

Podcast in the Brazil Initiative series, "Rethinking How We Study Brazil." https://podcasts.apple.com/us/podcast/rethinking-how-we-study-brazil/id1455527001?i=1000458020887

"Provision Grounds: Okra, Survival, and Resistance," photo essay in Memory Dishes, exhibition and catalogue, Center for Study of Slavery and Justice, Brown, May-Oct. 2019.

Collaboration with Mohamed Bourouissa in conceptualization and research for the children's workshop and painting of local Emirate plants originally from Africa, at his 2019 Sharjah Biennale installation, Blida-Joinville, UAE, Mar. 7-Jun. 10, 2019. Received Special Mention. https://www.contemporaryand.com/magazines/mohamed-bourouissa-links-architecture-and-psychology-in-abandoned-kindergarten/ 
"For Marielle: Mulhere(s) Da Maré—Danger, Seeds and Tides." Transition, no. 129 (2020): 246-264. Print and online.

"Espaços históricos, deuses hierárquicos - Geografias negras como abertura epistêmica diaspórica" in Ponto de Interrogacao, Salvador: UNEB. Print. v. 10 n. 2 (2020): Dossiê: Edição Especial do I Congresso Brasil in Teias Culturais. https://www.revistas.uneb.br/index.php/pontosdeint/issue/view/552 

"Plants of Bondage and Liberation Flora: Diasporic Reflections for STS in Africa and Africa in STS" from "What Do Science, Technology, and Innovation Mean from Africa? Chapter 4" (2017) edited by Clapperton Chakanetsa Mavhunga (pdf) https://library.oapen.org/bitstream/handle/20.500.12657/31335/631166.pdf?sequence=1 

Book chapter, "Kalunga: Creating from Black Immaterials" in C.C. Mavhunga (Ed.), Everyday DesignMakerX: From the Margins to the Center, MIT Press, Forthcoming. Print and online.

Book chapter (extended photo-essay), "Historical Spaces, Hierarchical Gods" in Marlon Ross and Ian Grandison (Ed.), Race/Space/Culture. Forthcoming 2022. Print.

Book chapter, Textile Techno-Tales of the African Diaspora: History of Textile Technology from the Optic of Enslaved Women, in the edited volume, Sifiso Ndlovu, Power and Authority of African Women, SADET, Pretoria, South Africa. Forthcoming December 2021. Print.