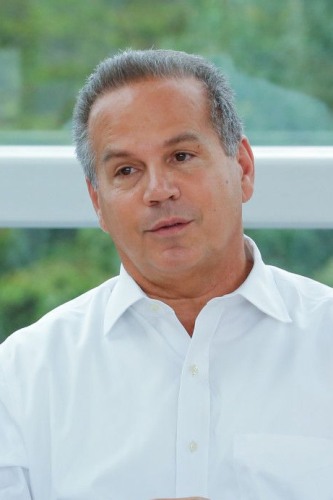 David Cicilline
Senior Fellow in International and Public Affairs
Congressman David N. Cicilline '83 serves Rhode Island's First Congressional District in the U.S. House of Representatives. Cicilline was a member of the House Democratic Leadership as Chair of the Democratic Policy and Communications Committee (DPCC). He was also a leader in Congress on issues of core American values, serving as Chairman of the House Antitrust Subcommittee, Co-Chair of the Congressional LGBT Equality Caucus, and Vice Chair of the Congressional Progressive Caucus.
As the Chairman of the House Antitrust Subcommittee, Cicilline oversaw an expansive portfolio of ensuring access to affordable health care, keeping the courts open to consumers and workers, promoting innovation and economic opportunity through open and competitive markets, keeping the internet open and free through strong net neutrality rules, promoting access to high-speed broadband internet, and holding the Trump administration accountable through oversight.
On the House Foreign Affairs Committee, Cicilline fought to keep Americans safe against terrorist threats while also working to bring our troops home safely and responsibly from Afghanistan and Iraq. Cicilline also established himself as a leader on human rights.
In Congress, Cicilline was one of the leading advocates for the "Make it in America" agenda to help rebuild and strengthen America's manufacturing sector. Cicilline introduced legislation to help create jobs, promote American-made goods, and stimulate economic growth. In 2015, Cicilline passed an amendment into law to help American manufacturers compete against foreign businesses for U.S. government contracts.
As a champion for the middle class, Cicilline worked hard to ensure that Rhode Islanders who work hard and play by the rules were able to buy a home, send their kids to college, and save for retirement. Cicilline fought to increase the federal minimum wage and permanently extend the child tax credit to provide tax relief to working families. Cicilline was also a strong advocate for equal pay for women and paid family leave.
Cicilline worked to protect nation's seniors and to honor our commitment to them by opposing every effort to privatize Social Security and cut Medicare. In 2014, Cicilline led 116 of his House colleagues in convincing President Obama to abandon his plans to use a different formula that would have led to a reduction in Social Security benefits. In 2015, Cicilline led the fight for a Cost of Living Adjustment to Social Security benefits. Cicilline also voted for the Bipartisan Budget Act of 2015, which prevented a substantial increase in the cost of Medicare premiums.
As mayor of Providence, Cicilline was a founding member of Mayors Against Illegal Guns and continued to fight in Congress to reduce gun violence. Cicillines was the author of the Assault Weapons Ban, which would prohibit the sale, transfer, production and importation of new military-style weapons and high-capacity magazines. He co-sponsored legislation to fix our broken background check system and keep guns out of the hands of criminals. Cicilline introduced legislation to prevent mentally ill people who are a danger to themselves or others from purchasing a firearm. Cicilline also worked to close the fire sale loophole to prevent gun dealers from converting their inventory to a "personal inventory" to avoid having to perform background checks on customers.
In 2015, following the Supreme Court's historic decision on marriage equality, Cicilline introduced the Equality Act to extend comprehensive anti-discrimination protections to the LGBT community in public accommodations, housing, employment, federal funding, education, credit, and jury service. In most states, it is legal for employers, renters, and educational institutions to discriminate against Americans based on their sexual orientation or gender identity. The Equality Act prohibits discrimination across all 50 states by expanding the Civil Rights Act of 1964 and other existing civil rights laws.
In Congress, Cicilline worked hard to restore the public's confidence and trust in government by making our campaign finance system more transparent and by reducing the influence of corporate money in our elections. Cicilline has worked to overturn Citizens United, which opened the floodgates to unlimited corporate spending on elections and fought to end the influence of big money in our political system. He also worked to clean up Congress by requiring every member of Congress to take annual ethics training.
Cicilline also fought to make it easier for people to participate in our democracy. He introduced the Automatic Voter Registration Act, which automatically registers people eligible citizens to vote at the DMV. Cicilline has also consistently supported efforts to renew the Voting Rights Act to prevent racial discrimination and ensure the voice of every American is heard in our democracy.
Congressman Cicilline also recognizes the urgent challenges of addressing climate change. 2015 was the hottest year on record and it's Congress' responsibility to address the serious consequences of climate change and protect our environment and natural resources for future generations. Congressman Cicilline joined colleagues in expressing strong support for the President's Climate Action Plan to reduce global greenhouse gas emissions. Congressman Cicilline also co-sponsored the Microbead-Free Waters Act, which President Obama later signed into law to ban the sale of cosmetics containing plastic microbeads that can pollute our oceans, as well as the Clean Ocean and Safe Tourism Anti-Drilling Act to prohibit oil and natural gas drilling off the coast of Rhode Island. In addition, Congressman Cicilline was a co-sponsor of H.R. 3195, a bill that would permanently reauthorize the Land and Water Conservation Fund, which was first established in 1965 to provide federal funding to conserve vital natural resources.
Prior to his election to Congress, Cicilline served two terms as Mayor of Providence and four terms in the Rhode Island House of Representatives. He is a graduate of Brown University and the Georgetown University Law Center and resides today in Providence.