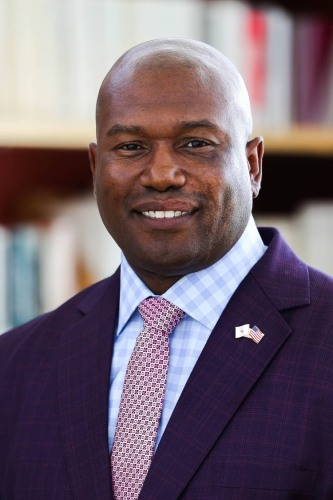 Kingslee Gourrick
MPA Student, Visiting Scholar in International and Public Affairs
Research Interests
US Foreign Policy
Areas of Interest
Marine Aviation, Military Operations, Marine Air Ground Task Force
Major Kingslee Gourrick, U.S. Marine Corps, is a national defense fellow, visiting scholar and MPA candidate at the Watson Institute for International and Public Affairs. He is an active-duty Marine aviation maintenance officer and logistician, with proven leadership qualities, including an award for valor and leadership during combat operations.
During multiple fleet assignments, Major Gourrick held key leadership roles such as squadron operations officer (responsible for training development and combat readiness of over 530 assigned Marines), deputy senior engineering Officer (assigned while on exchange with the Royal Air Force), Assistant Aircraft Maintenance Officer, Division officer, logistics officer and detachment officer in charge. Over the course of his 25-year career, Major Gourrick has led Marines while visiting the shores of Guam, Japan, the Republic of Korea, Philippines, Indonesia, Malaysia, Thailand, Singapore, Diego Garcia, Seychelles, Kenya, Turkey, United Arab Emirates, Bahrain, Qatar, Kuwait, Dubai, Iraq, Afghanistan, Norway, the United Kingdom and Germany. He is the recipient of multiple Navy and Marine Corps commendation and achievement awards for meritorious and professional accomplishments while leading, forecasting, coordinating and managing large groups of Marines and foreign service members.
He received his bachelor's degree in professional aeronautics with an emphasis in management and aviation safety, and a master's degree in engineering management, with an emphasis on systems engineering, from Embry-Riddle Aeronautical University.
Recent News