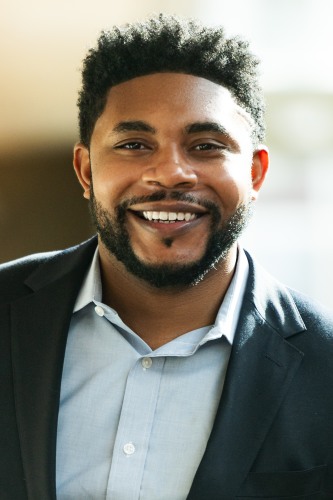 Jonathan Collins
Mary Tefft and John Hazen White, Sr. Assistant Professor of Political Science, Public Policy, and Education
Research Interests
Race and Ethnic Politics, Education Politics and Policy, Urban Politics, State and Local Politics, Democratic Theory
Jonathan E. Collins (he/him/his) is the Brown University Mary Tefft and John Hazen White Sr. Assistant Professor of Political Science, Education and International and Public Affairs. At Brown, Professor Collins holds affiliations with the Annenberg Institute for School Reform, the Choices Program, and the Taubman Center for American Politics and Policy as well as a courtesy appointment in Urban Studies. His research focuses on race and ethnic politics, urban politics, state and local politics, education politics and policy, and democratic innovation.
As a researcher, Collins has been at the forefront of the study of public participation at school board meetings. He is the founder and director of the Brown University PAVED Research Initiative through which he is leading new participatory budgeting initiatives aimed at empowering minority communities. He has also written on African American voting behavior, local election reform, and school finance policy. His scholarship has been published in the American Political Science Review, Political Behavior, the Peabody Journal of Education, American Politics Research, the Urban Affairs Review, the Journal of Urban Affairs, and Local Government Studies.
He is the recipient of numerous awards including the Ford Foundation Postdoctoral Fellowship Award, the American Political Science Association's Susan Clarke Young Scholar Award, and the Brown University Presidential Postdoctoral Fellowship Award. His research has been funded by the Spencer Foundation and the U.S. Department of Education's Institute of Education Sciences (IES).
Professor Collins's research focuses on the democratic behavior of American political institutions as well as the political behavior of People of Color in the U.S., particularly African Americans. His work on democratic behavior centers on participatory and deliberative democracy. He is particularly interested in the capacity for the democratic innovations to improve the quality of schools in low-income minoritized communities. For his research on POC political behavior, he does work to help us better understand the factors that motivate POCs to engage in a range of political activities such as: vote in national and local elections, attend a school board meeting, and run for public office. His research as a whole aims to help us understand what is needed to push the U.S. closer to a functioning multi-racial society.
Collins, Jonathan. (2021). "Does the Meeting Style Matter? The Effects of Exposure to Participatory and Deliberative School Board Meetings." American Political Science Review. https://doi.org/10.1017/S0003055421000320.  
Collins, Jonathan. (2021). "Should School Boards Be in Charge? The Effects of Exposure to Participatory and Deliberative School Board Meetings." Peabody Journal of Education. (forthcoming). 
Collins, Jonathan, Eddie Lucero, and Jessica Trounstine (2020). "Will Concurrent Elections Shape the Electorate?" California Journal of Politics and Policy.  https://doi.org/10.5070/P2cjpp1150416  
Scott Jamil and Jonathan Collins. (2020). "Riled up about running for office: examining the impact of emotions on political ambition." Politics, Groups, and Identities. 1-16. https://doi.org/10.1080/21565503.2020.1757806  
Collins, Jonathan. (2019)."Do Teachers Want Democracy? Deliberative Culture and Teachers' Evaluations of Schools." Urban Affairs Review. https://doi.org/10.1177%2F1078087419869550  
Collins, Jonathan and Ray Block Jr. (2018). "Fired Up or Ready to Go? The Impact of Declining Enthusiasm on African American Political Participation in the Post-Obama Era." Political Behavior. https://doi.org/10.1007/s11109-018-9488-y.  
Collins, Jonathan. (2018)."Urban representation through deliberation: A theory and test of deliberative democracy at the local level." Journal of Urban Affairs : 1-22. https://doi.org/10.1080/07352166.2018.1427507
Policy Implementation in Education, Democracy and Education
Introduction to Education and Society: Foundations of Opportunity and Inequality
Race and Democracy in Urban Education Policy