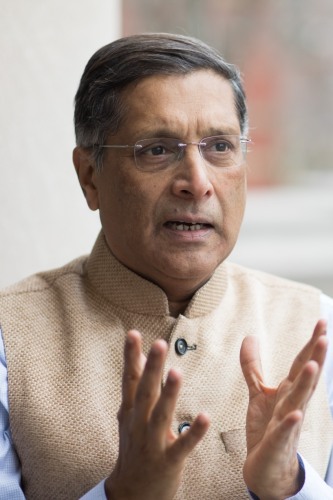 Arvind Subramanian
Senior Fellow in International and Public Affairs
Research Interests
Global Finance & Banking, International Institutions, Trade
Areas of Interest
Growth, Development, India, China, Trade
Arvind Subramanian is a senior fellow at Brown University's Watson Institute for International and Public Affairs and a distinguished non-resident fellow at the Center for Global Development. He was previously a professor at Ashoka University, a visiting lecturer at the Harvard Kennedy School (2018-2020) and the chief economic adviser to the government of India between October 2014 and July 2018. Foreign Policy magazine named him as one of the world's top 100 global thinkers in 2011.
The economics of India, international trade and economic growth.
India's Export-Led Growth: Exemplar and Exception
Dynamism With Incommensurate Development: The Distinctive Indian Model
Validating India's GDP Growth Estimates
The Hyperglobalization of Trade and Its Future
Institutions Rule: The Primacy of Institutions over Geography and Integration in Economic Development
Why Did Financial Globalization Disappoint?
Aid and Growth: What does the Cross-Country Evidence Really Show?
The Indian Economy; India and China